Stream high resolution imagery for Ontario and Alberta to your desktop mapping software using the WMS, WMTS, KML, or TMS protocol.
Shared subscription plans scale to the size of your team, or let us design a custom solution for your enterprise or web portal.
Blog: MapCast Troubleshooting Checklist

Have you tried turning it off and turning it back on again? The top roadblocks to success with your MapCast subscription and how to address them…
---
MapCast Connects With Software You Already Use
Blog: How To Use A Tile Map Service

If you can use Google Maps, then you're already an expert. It's much easier than you think…
---
Data Catalogue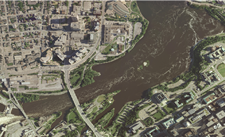 An orthophoto is an aerial photograph geometrically corrected such that the scale and overhead perspective is uniform, enabling users to measure true direction and distance.


Compare With Satellite |

FAQs
Elevation contours in 1m intervals across the Golden Horseshoe produced by First Base Solutions, and coverage of all Ontario in 5m and 10m intervals.


Compare Elevation Mapping |

FAQs
---
Features
Current and historical imagery covering Ontario and Alberta
Select from aerial and satellite imagery packages plus localized vector overlays
Shared subscription plans scale to the size of your team
Imagery projects on the fly to many datum and coordinate systems
Coordinate with remote co-workers to access and view the same data at the same time
Connect to all First Base Solutions Services with the same username and password
Benefits
Connect to desktop mapping software using the WMS, TMS, WMTS, or KML protocol
Add data to your project and connect to MapCast instead of a file stored locally
No need to store, manage or process vast data sets
Assign operator and account admin roles, create custom reports, and manage your subscription online
Monitor each team member's usage in real time
Automated email alerts and notifications regarding your account
---
Pricing?
Select an annual plan based on the number of users, then select from aerial and satellite imagery products that match your area of interest. You can also select from free and premium vector overlays to add to your subscription.
Data prices scale with the size of your team, which can be upgraded at any time. Bandwidth overages are billed monthly. Build your subscription now for a personalized quote.

Blog: Tips To Sell Your Boss On MapCast

Leverage the rapport you have with your manager combined with the tips below to get your company on MapCast. Here's how to talk to your boss like a boss…
---
Who's It For?
Engineering
Energy
Planning & Government
Natural Resources
Agriculture
Transportation
---
Sell Your Data
We'll sell your data on all our platforms to maximize your data's distribution, allowing you to focus on what you do best: Creating More Data.
Learn More
---
Discover More