Over the last 15 years, FBS has collected the most up-to-date, ready-to-use, geospatial products for Ontario.
We strive to provide new, complementary data sets to meet the ever increasing demand for location intelligence tools.
---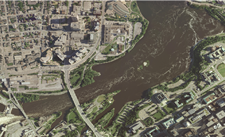 An orthophoto is an aerial photograph geometrically corrected such that the scale and overhead perspective is uniform, enabling users to measure true direction and distance.


Compare With Satellite |

FAQs