East Meets West
First Base Solutions is pleased to announce we have recently entered a partnership with Tarin Resources Services of Alberta. In the coming months, First Base customers will see Tarin's aerial imagery covering Alberta added to our MapWarehouse store and MapCast WMS alongside our own Ontario data sets.

Adam Sampson, Sales and Marketing Manager at First Base Solutions explains, "We've noticed our customer base of Ontario businesses expanding westward or doing business with companies located in Western Canada over the past few years. The demand from our customers for good quality Alberta data quickly outpaced what we could collect on our own."
Download Tarin's Year By Year Aerial Imagery Coverage Map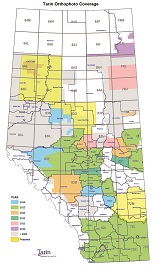 Tarin has the largest geospatial database in Western Canada dating back to 1993. "This partnership was a natural fit. Our business models and products are very similar, but our data territories don't overlap," Sampson points out, "Our customers can now access vastly expanded data coverage in Alberta while still dealing with a familiar local company through our MapCast and MapWarehouse services."
What Will Be Available?
Natural Colour Aerial Imagery
Resolutions Ranging 10-40 cm
Southern and Central Alberta
Current and Historical Data Sets
How To Purchase?



Subscribe to our newsletter to ensure you never miss out on updates like this one!

About First Base Solutions Inc.
Established in 2000 in Markham, ON, First Base Solutions (FBS) is a wholly owned subsidiary of J.D. Barnes Ltd. and is a provider of orthophotography, parcel mapping, digital elevation models, and other geospatial data to a variety of industries in Ontario and beyond. Professional services include aerial image acquisition, custom mapping, and geospatial software development. FBS offers three web applications to access our data collections: VuMAP, MapWarehouse, and MapCast. To learn more please visit www.firstbasesolutions.com
About Tarin Resources Services Ltd.
Tarin has the largest geospatial database in Western Canada. Our archived data includes Orthophotography, Stereo Imagery, Aerial Triangulation and Lidar covering Alberta, British Columbia, Saskatchewan and Manitoba. Tarin started acquiring new imagery covering large areas of Alberta, NE British Columbia and Saskatchewan in 1993 and brought the use of ortho imagery to the forefront in many of the business sectors of Western Canada. Each year, these speculative surveys enabled our customers to gain access to current imagery for a fraction of the cost of acquiring this data on their own. Keeping current with technology and listening to our customers has enabled Tarin to become one of Western Canada's largest distributors of geospatial data.
Was this answer helpful ?
Yes

(

0

)
/
No

(

0

)